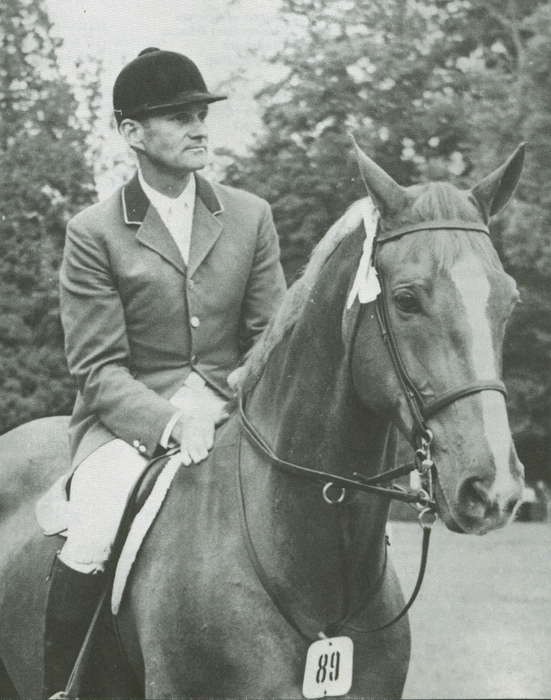 William C. Steinkraus (72), a resident of Norton, Connecticut, is a six-time Olympian who in 1968 became the first American ever to win an Olympic individual gold medal in equestrian sport when he won the show-jumping title in Mexico City. A graduate of Yale College, where his education was interrupted by a stint in Burma with the U.S. Cavalry during World War II, Steinkraus joined the U.S. Equestrian Team in 1951, rode on the bronze-medal team at Helsinki in 1952 and was a member of every subsequent Olympic Team through 1972, riding as team captain from 1955-on an sharing team silver medals in 1960 and 1972. He retired from international competition after the 1972 season.
The following year, Steinkraus was elected USET President; he became its Chairman ten years later and Chairman Emeritus in 1992. A Director of the American Horse Show's Association for more than four decades and Chairman or member of many AHSA Committees, he has received both its Horseman of the Year and Lifetime Achievement awards. He has served as television commentator at four Olympic Games and three World Championships and has officiated as an International Judge at the Olympic and Pan American Games, World Championships and World Cup Finals as well as many other international events around the world. He has also written several books on equestrian matters, most recently Reflections on Riding & Jumping (revised edition 1997).
Married to the former Helen Ziefler, herself a noted dressage judge and organizer, and the father of three sons, Steinkraus has been elected to the Madison Square Garden, National Horse Show, New York Sports and Show Jumping Halls of Fame. He is an Honorary Bureau Member and former Executive Board Member of the Fédération Équestre Internationale, the world governing body of equestrian sport, and was for ten years President of its World Cup Committee. He still finds time to ride when his other commitments permit.