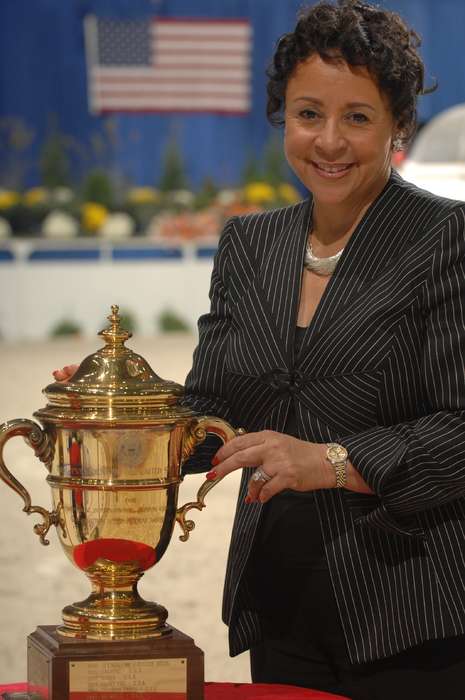 For almost a decade, the Washington International Horse Show (WIHS) has had the privilege and honor to have one of the nations most impassioned philanthropists championing and supporting its mission to host one of the world's most prestigious indoor equestrian competitions.  Sheila C. Johnson has been an omnipresent fixture and integral component of the WIHS from the first year her daughter, Paige, stepped into the prestigious indoor arena at the US Air Arena.
As a longtime exhibitor, enormously generous sponsor, dedicated member of the Board of Directors and Executive Committee, and WIHS Past President and Past Chairman of the Board, Johnson has guided the WIHS to its most successful years in its new home at the Verizon Center in Washington, D.C.  In recognition of her unwavering support and leadership, the WIHS is proud to inaugurate Sheila C. Johnson into its prestigious "Hall of Fame."
In addition to Johnson's philanthropic work on behalf of the WIHS, she most recently was appointed a Global Ambassador for CARE, a humanitarian organization whose mission is to fight global poverty.  In this role, Johnson acts as an integral part of the "I AM POWERFUL" campaign, working to build solidarity and create a movement to empower women and girls as catalysts for change in communities around the world.
As an avid sponsor of the arts and accomplished violinist, Johnson also supports a variety of arts and cultural groups nationwide to help create opportunities for children and young adults to express their creativity.  She is a major supporter of the United Negro College Fund; SUNY Morrisville; Strings for Schools in Philadelphia; Urban Gateways in Chicago and, closer to home, The Wolf Trap Foundation for the Performing Arts, to offer childhood education programs.  Additionally, Johnson recently established the Sheila C. Johnson Performing Arts Center at the Hill School in Middleburg, Virginia.
Also an advocate for the protection of children, Johnson has spoken around the world on behalf of the International Centre for Missing & Exploited Children.  Through her work, she has also helped introduce tougher sanctions and legislation to protect children globally.  As a co-founder of Black Entertainment Television, her crowning achievement was the development of an award-winning weekly program Teen Summit, giving teenagers a chance to talk frankly about their critical issues.
In addition to her philanthropic work, Johnson is an accomplished businesswoman and entrepreneur.  As CEO of Salamander Hospitality, LLC, she oversees a growing portfolio of luxury properties including:  Market Salamander, Woodlands Resort & Inn and Innisbrook Resort and Golf Club.
The WIHS celebrates Sheila and her years of generous support, invaluable leadership of service and tireless energy and participation.  Welcome, Sheila, to the "Hall of Fame!"  The WIHS salutes you!