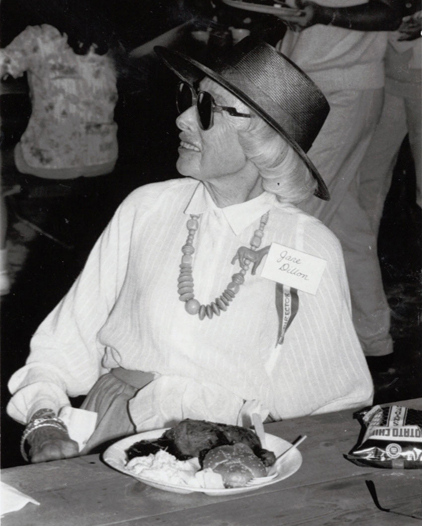 It began with a 16-sided barn. Not just any barn – but a barn, outbuildings and the remains of an old springhouse that once belonged to George Washington. In 1950, Mrs. Jane Marshall Dillion rented historic Hayfield Farm, which soon housed her original ponies. Thus began the Junior Equitation School. Mrs. Dillon was instrumental in getting her students to hunt with the Fairfax Hunt at the nominal cost of $15 per year. Two of her students, Kathy Kusner and Joe Fargis , went on to represent the United States as members of the Olympic Equestrian Team, and now conduct their own clinics around the country. The Equitation School remained at Hayfield until 1955 when developers brought up the land. The Dillions and the school moved to Full Cry Farm in rural Vienna, Virginia, where generations of riders were trained over the next three-plus decades.
Much of the initial success would later be attributed to Mrs. Dillon's dun mare, April Dawn, the three-time Junior Hunter Champion of Virginia and trophy winner at top horse shows at Madison Square Garden in New York, the Pennsylvania National Horse Show at Harrisburg, Pennsylvania, and at Toronto, Canada.
Mrs. Dillon has been actively involved in the success of the WIHS Local Day competition that is held each year at Paper Chase Farm in Middleburg, Virginia. The WIHS Local Day Committee sincerely appreciates Mrs. Dillon and the Junior Equitation School's generous donations and time given to the hospitality stand.
The Washington International Horse Show is proud to honor Mrs. Jane Marshall Dillon as the 1999 WIHS Hall of Fame inductee. Mrs. Dillon, 84, currently resides in Clifton, Virginia. The wife of William David Dillon, Mrs. Dillon has one son, Randy.