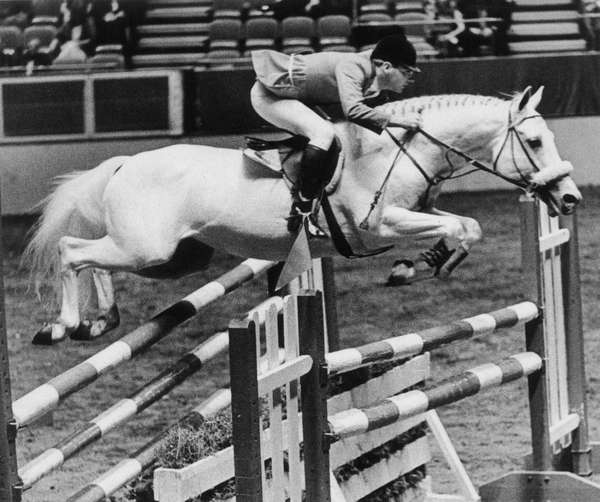 Equestrian legend Frank Chapot was inducted into the WIHS Hall of Fame posthumously on October 29, 2016. He passed away on June 20 that year at the age of 84 leaving an enduring legacy of horsemanship and patriotism in the sport of show jumping.
The son of Frank Joseph Chapot and the former Dorothy Davis, Frank Davis Chapot was born on February 24, 1932, in Camden, N.J., and raised on his parents' farm in Walpack, N.J.
Frank was mostly a self-taught horseman who gained much of his early knowledge by watching others ride. He rode at the Boulder Brook Club in Scarsdale, N.Y., and practiced equitation, leading to his victory in the 1947 ASPCA Maclay Finals at Madison Square Garden.
After graduating from the University of Pennsylvania's Wharton School, Frank spent two years in the Air Force, serving between the Korean and Vietnam wars, and was able to ride on the weekends.
Frank competed in his first Olympics in 1956 while on active duty with the U.S. Air Force. He was the youngest rider on the team at the age of 24 and went on to represent the United States at five more Olympic Games.
He and Mary Mairs married in 1965, a year after they both competed on the U.S. team at the 1964 Olympic Games in Tokyo. Four years later, they returned to the Olympic Games in Mexico City, where Frank just missed team and individual medals in fourth place.
Frank's relationship with WIHS spans its 58-year history, as he was the first rider to win the grand prix (prior to it becoming the President's Cup in 1961) in Washington in 1958 on the 19-year-old Trail Guide, his 1960 Olympic mount.
"I competed at the first ever WIHS before it was a CSIO," Frank recalled. "There was no Nations Cup class there yet, but it had a very special grand prix. I rode a horse named Trail Guide and beat the 1952 Olympic gold medalist Hans Guenter Winkler. I have very fond memories of winning that first grand prix ever held in 1958. I'll never forget that."
Frank added another WIHS victory to his career in 1965 when he and the renowned San Lucas won the President's Cup Grand Prix.
Remembering WIHS as a show that welcomed dignitaries, as well as President John F. Kennedy and his wife Jackie, Frank noted the original venue, The D.C. Armory, had "special character".
Continuing his international success, Frank won team silver medals at the 1960 and 1972 Olympic Games, along with an individual bronze medal at the 1974 World Championships. He rode on a staggering 93 Nations' Cup teams – including those hosted at WIHS – leading the U.S. to victory in 46 times.
Speaking of his appearances at WIHS, Frank said, "I rode in the Nations Cup every year. We won the Nations Cup many, many years, when I was a rider and chef (d'equipe). I remember one year when we won the Nations Cup, (then Vice President) Hubert Humphrey handed us the trophy. We had Billy Steinkraus as our captain until he retired, and then I was the captain. My wife, Mary, rode on the team, Bill Robertson was on it – there were lots of good team members."
Leading the United States as a rider on Nations' Cup teams parlayed naturally into his role as chef d'equipe for the U.S. Equestrian Team. He was at the helm when the show jumping team won its first gold medal at the 1984 Olympics in Los Angeles, where Joe Fargis and Conrad Homfeld brought home the individual gold and silver medals. The team won gold again at the 1986 World Championships in Aachen, Germany, where Homfeld won individual silver.
Perhaps closest to Frank's heart were not his own victories, but the double silver medals won at the 1988 Seoul Olympic Games by Greg Best and Gem Twist. Gem Twist was a horse Frank bred and raised and was sired by his former mount Good Twist. Gem Twist was also named "Best Horse" at the 1990 World Equestrian Games.
Frank led the U.S. Show Jumping team to another gold medal at the 2004 Olympic Games in Athens before retiring as chef d'equipe. He continued his involvement in the sport at his own Chado Farm (named after his first show horse) in Neshanic Station, N.J., teaching his daughters Wendy and Laura, and making the bold move to clone Gem Twist. That clone, Gemini, now stands at stud in France. At the age of 78, Frank was the first rider to sit on Gemini during his training.
Known as a "walking rulebook," Frank tirelessly worked to improve and serve the sport he loved by sitting on committees for the USET, the old American Horse Shows Association, and the United States Equestrian Federation. He was a course designer and judge as well. All of these accomplishments led to his acceptance of the USEF Lifetime Achievement Award and his induction into the Show Jumping Hall of Fame.
Frank is survived by his wife, Mary; daughters Laura Chapot and Wendy Nunn, son-in-law Edward Nunn, and grandchildren Frank, Mary, and Cathleen Nunn. He will be missed as a leader in the sport of show jumping, and we are proud to honor him in the WIHS Hall of Fame.