By Kathryn Jernick, WIHS Intern
Rider Spotlight
Name: Catalina Peralata
Age: 18
Hometown: Geneva, Florida
Division: WIHS Equitation
Trainer: 

Seabreeze

 Farm and Beacon Hill 

Show 

Stables
Catalina Peralta, 18, of Geneva, Florida, is in the final junior year of her equestrian career. She competes in the hunter, jumper, and equitation rings, and is committed to ride on the University of Georgia's National Championship team this fall. Catalina is currently tenth on the WIHS Equitation East rankings list (6/25/21) and well on her way to qualifying for the WIHS Equitation Finals in October, the final hurdle in her goal to qualify for the major equitation finals this year. She rides under the guidance of Seabreeze Farm and Beacon Hill Show Stables.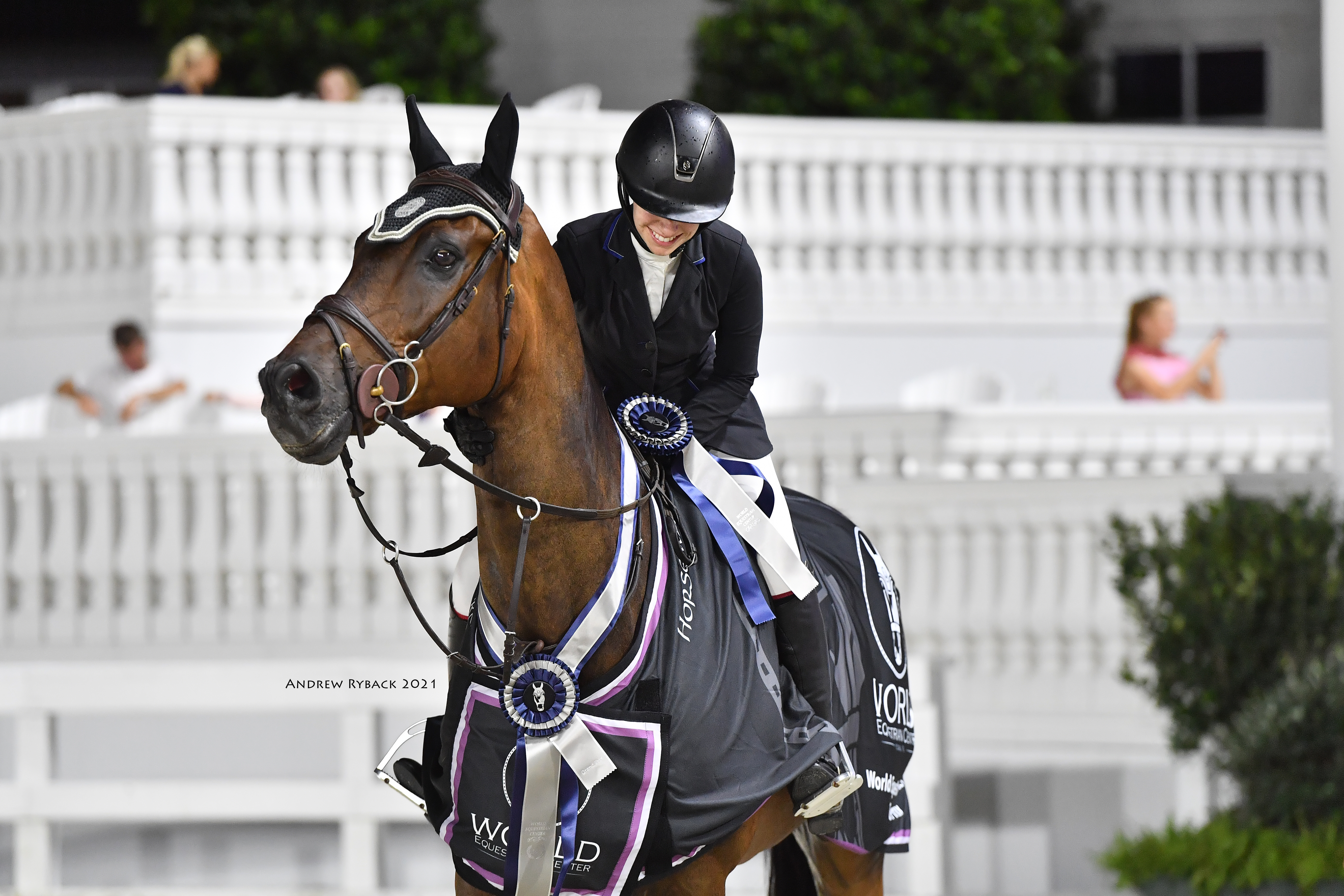 Q: What do you enjoy most about WIHS Equitation? How is it different from other qualifying equitation classes, like the Maclay and Medal?
A: WIHS Equitation requires diversity from both horse and rider with the hunter and jumper phases, and they are openly scored which is very informative for riders and trainers. They also differ in the number of riders who attend the final, which makes it feel more prestigious.  
Q: Who is your biggest equestrian role model? 
A: Throughout my junior career, my role models have been my mother, Wendy Peralta, and Beezie Madden. When I was young, I watched my mother compete in grand prix classes and wished someday that I could do the same. She treats horses with the utmost respect and has an unlimited amount of patience in terms of training. Beezie Madden is also someone I've looked up to in my junior career. Beezie was and still is a role model for me due to her fantastic mental game and work ethic.
Q: Do you have a favorite horse? 
A: It is impossible for me to choose a favorite horse as they have all taught me valuable lessons, but the horse that's impacted me the most would have to be my first horse, Carambo Z. He showed me what it meant to truly love a horse more than anything in the world. He was stubborn at times, which has made me the rider I am today. I am eternally grateful to him for all of the experiences he gave me.  
Q: As you're in your last junior year and off to college in the fall, looking back, what has been your proudest accomplishment? 
A: The proudest moment was winning the $50,000 Grand Prix at the World Equestrian Center in June. It was extremely special because I was able to capture the class with my partner of five years, Conti. He's been with me since I was 13, so it felt special to make the next step in my career with him now as an 18-year-old.  
Q: What are you looking forward to in collegiate riding? 
A: I'm most looking forward to the team camaraderie. It'll be nice to have a group of people working together toward the same goal in order to accomplish something bigger than ourselves.  
Q: Hunter, jumpers, or equitation? 
A: My heart lies with the jumpers. I've been in love with the jumpers ever since I first started doing it with my pony jumper, Cookies and Cream. I appreciate the hunter and equitation divisions immensely, but my passion for the sport started in the jumpers.  
Q: If someone had to describe you in three words, what do you think they would say? 
A: I think they would answer: "genuine, passionate, and adaptable."  
Q: If you could only eat one thing for the rest of your life, what would it be?
A: It would have to be either sushi or cheeseburgers. I can't pick just one!  
Q: How has your family's involvement in the horse industry influenced you? 
A: My family has influenced me immensely. From a young age I have seen all the work behind the scenes that goes into this sport, and it truly makes me appreciate it. I've been extremely fortunate to have access to my family's extensive horse knowledge, which has made me the horsewoman I am today.  
Q: Have you ever been to WIHS, and if so, what's your favorite memory? 
A: I attended WIHS in 2018. My favorite memory is showing in the Low Junior Jumper division and winning the speed class with my horse, Chopin Z. It was a fantastic because it gave me more experience showing in the jumpers indoors. 
Good luck to Catalina on her road to the WIHS Equitation Finals! 
Are you on the road to WIHS 2021? Check current rankings here.
About the Author: Kathryn Jernick joined WIHS as an intern in May 2021. Kathryn is a member of the UGA Equestrian team and has her sights set on competing in a Grand Prix one day. Learn more about Kathryn on the WIHS Internship page!