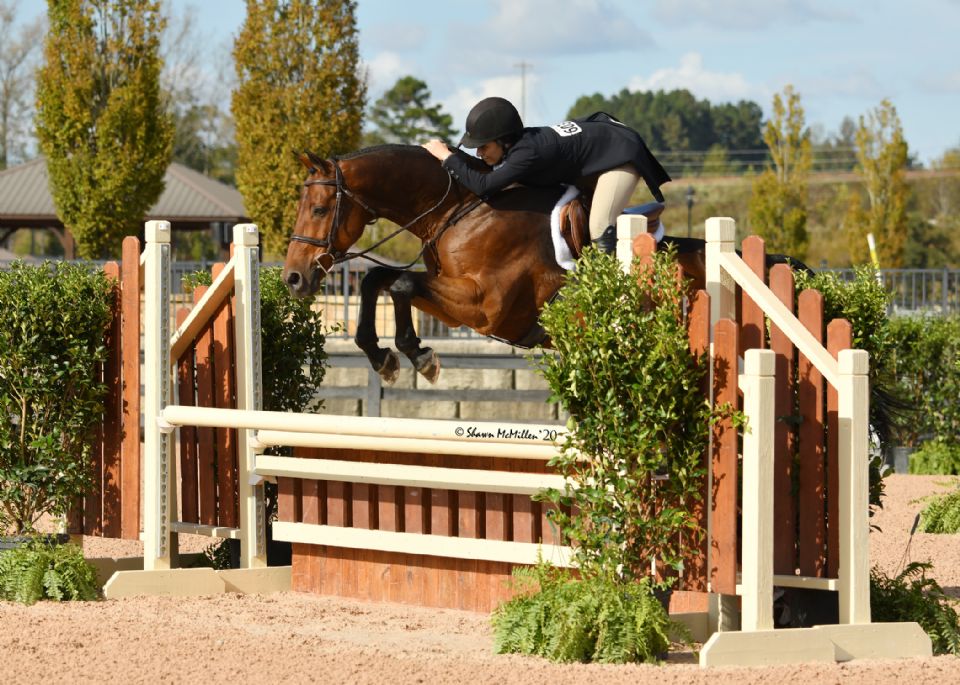 October 21, 2020 – Mill Spring, NC
The Washington International Horse Show (WIHS) presented by MARS Equestrian™ officially commenced on Wednesday, October 21, at Tryon International Equestrian Center (TIEC) and continues through Sunday, October 25. Opening day featured the WIHS Hunter Championships presented by MARS Equestrian™ with the adult title going to Mattie Worsham of Aiken, SC, riding Scout and the children's victory awarded to Margaret Stell of Winston-Salem, NC, aboard Clever.
When Worsham, 23, pulled Scout out from the retirement field two years ago, she never imagined he would bring her back to the show ring, let alone the winner's circle. Scout, a now 20-year-old gelding, was Worsham's junior hunter mount beginning when she was 13. After suffering from several degenerative conditions, Worsham and her family did their best to keep him sound and happy.
"He was off for almost four years, and my dad who is a veterinarian with his own practice [Foxdale Equine Veterinary Services] worked tirelessly to get him back here, while my mom took care of him while I was away at college," said Worsham, who is currently pursuing her PhD in English from Louisiana State University. "It is a dream come true and very redemptive to get him back here, especially since we grew up together. He will have a very happy long retirement after this at our farm in Aiken. It was really nice to be able to end his career here."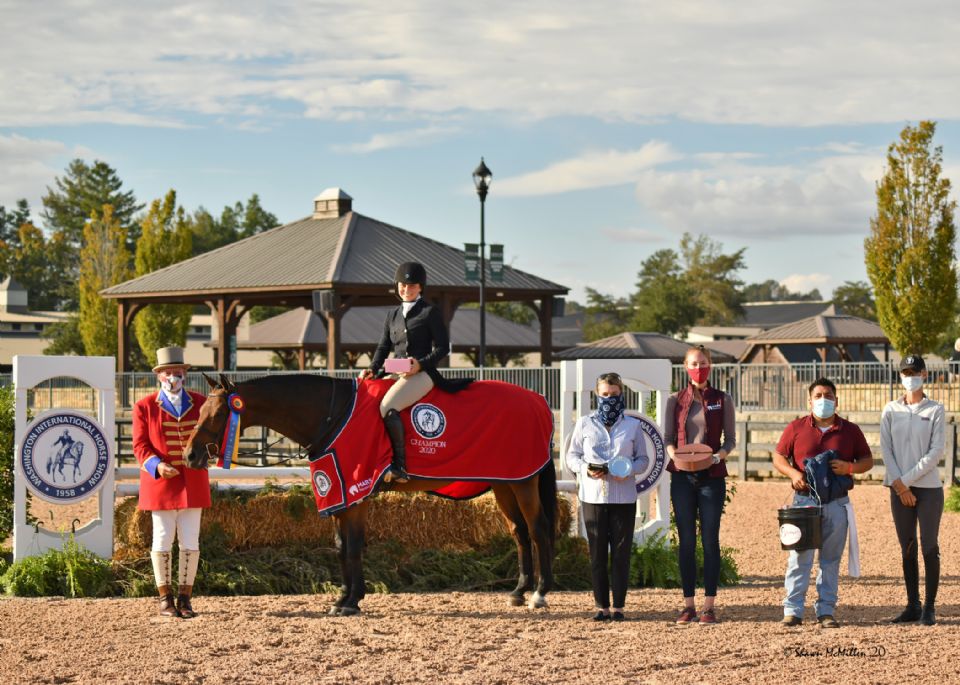 While victory was extra sweet for Worsham and her long-time partner, it was an unexpected result. "It was not the plan to bring him back; it was experimental more than anything else," she admitted. "One day in 2018, my dad said 'Let's look at Scout.' We decided that maybe he could come back. [This championship] wasn't even on my radar, and it was a reach for me to even end up here. At the beginning of the year, my trainer Courtney Goldstein suggested that we try to qualify for WIHS, and I really wouldn't be here without her help."
Worsham sat second before the second round of the two-phase championship, but moved up with a score of 86. Combined with an 85 from the opening round, her final score of 171 took the win and the Diane Wade Memorial Award to commemorate the WIHS accomplishment. Helen Voss of Versailles, KY, finished second on Cantina with a total score of 170, while Katherine Stokan of Atlanta, GA, took third with a 155 riding Duplicated Copy SF for owner Joan Fontes.
"I feel so grateful that we were able to have our finals during this time," continued Worsham of the unusual circumstances surrounding the COVID-19 pandemic that brought WIHS from Washington D.C. to TIEC. "I think it was so important for people to be able to come back together even though the world is different. A great source of comfort for me during the early days of quarantine was that the horses still have to be fed every morning. That part of the world doesn't stop turning, and it was great of the shows to pick up on that as well and be able to bring us back here."
Margaret Stell and Clever Claim WIHS Children's Hunter Championship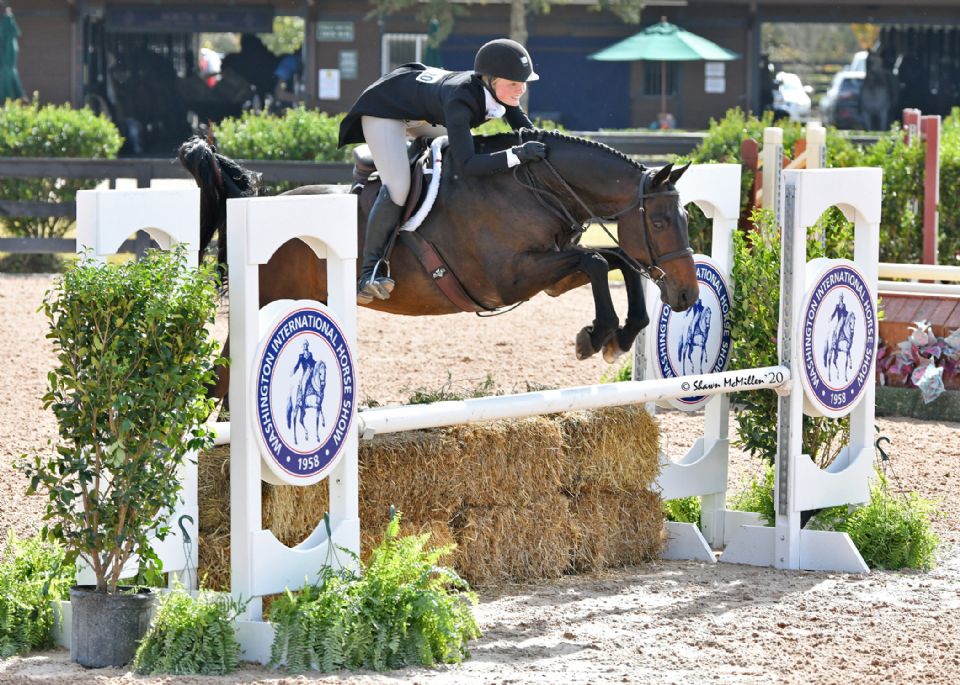 Margaret Stell, 17, dominated the first round of the WIHS Children's Hunter Championship in the irons of Clever, her children's hunter mount of nearly three years. Her score of 87 set her apart from the field and was combined with a 76 in the second round for a total of 163 and a spot on the H. Fenwick Kollock Memorial Perpetual Trophy, donated by Friends of Fen.
"Clever is perfect," said Stell as she gave credit to the 13-year-old Holsteiner gelding by Clarimo. "He is all try – you could point him at the moon and he would say, 'If you are down to jump the moon, let's do it.' He's a once in a lifetime horse.
"It was very unexpected to even qualify for this," continued Stell, who trains with Pat Dodson and Keith Hastings, and was accompanied by her mother and groom, Jennifer Clauss. "The trip to qualifying was definitely a crazy ride because we took so much time off that when we first came back in June, it was a little bit rough. My horse was there the whole time; I just had to reconfigure how I was thinking about it. The feeling of coming out here and winning is amazing."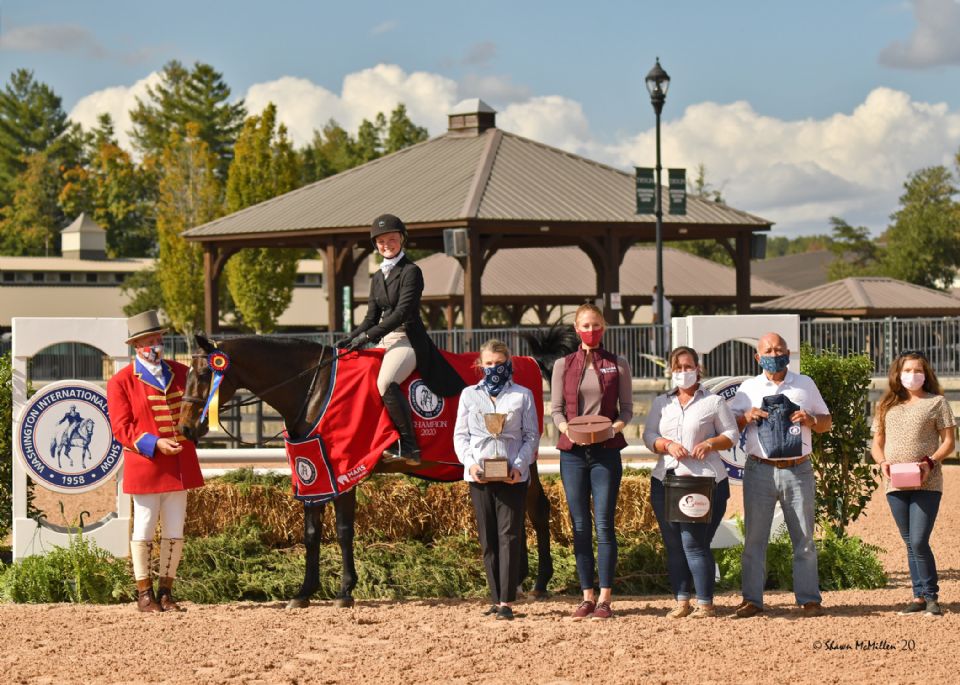 Speaking about the two rounds of competition, Stell felt it was built specifically for her and her horse, saying, "I really loved the part of the course with the nine-stride bending line. Bending lines are a little bit of a struggle for me because you have to jump in and decide right then if you want to bend out or keep it more direct, but that bending line was right there for us."
Stell is currently a senior in high school and considering studying nursing in college.
Runner-up to Stell, Tillie Hall of Keswick, VA, took second on a final score of 161 riding her own Dubai, and Olivia Sweetnam rounded out the top three on a score of 160 aboard Sunman, owned by Sweet Oak Farm.
The Washington International Horse Show continues at TIEC on Thursday, October 22, with the $10,000 WIHS Children's Jumper Championship and the $10,000 Adult Jumper Championship, both presented by MARS Equestrian™.
Catch Every Stride
Thanks to support from USEF Network, complete livestreaming coverage of the Washington International Horse Show presented by MARS Equestrian™ and the $214,000 President's Cup Grand Prix CSI4* presented by MARS Equestrian™, is available for all events. Click HERE to tune in!
For more information on WIHS 2020 and the $214,000 President's Cup Grand Prix CSI4* presented by MARS Equestrian™, please visit www.wihs.org. Also, join us on Facebook, and follow us on Twitter, Instagram, YouTube, and Snapchat. Tag us using #WIHS2020, #WIHS, #WIHSeq, and #WIHSpresidentscup.
$10,000 WIHS Adult Hunter Championship
Rank Horse Rider Score
1 SCOUT Mattie Worsham 85+86=171
2 CANTINA Helen Voss 86+84=170
3 DUPLICATE COPY SF Katherine Stokan 77+78=155
4 STORY TELLER Emily Rickert 84+70=154
5 A TIMELY AFFAIR Romney Velazquez 83+68.5=151.5
6 ZAMUNDO Bradley Federico 76+75=151
7 AMARI Laura Barkley 77.5+73=150.5
8 CAREDAN Z Romney Velazquez 74+74=148
9 EGO Chelsea Director 78+69.5=147.5
10 CRYPTIC FERNHILL Samantha Resch 75+72=147
11 LIMELIGHT Charlotte Sprague 80+62=142
12 CINDERELLA Ashley De Woolfson 84.5+45=129.5
$10,000 WIHS Children's Hunter Championship Results
Rank Horse Rider Score
1 CLEVER Margaret Stell 87+76=163
2 DUBAI Tillie Hall 77+84=161
3 SUNMAN Olivia Sweetnam 75+85=160
4 CORRADO Hannah Banks 76+83=159
5 DIA Maci Iddings 74.25+84=158.25
6 APPLAUD Parker Peacock 83+75=158
7 CAVALLI Luke Rinehart 74.75+81=155.75
8 MTM TO THE POINT Gabrielle Sousa 78+73=151
9 CHER Z Grayson Shelton 76.5+72=148.5
10 SIENNA REAGAN WILLIAMS 75.25+68=143.25
11 SUMMIT Elodie Watrous 75.5+60=135.5
12 ELEMENTARY Blakely Ansley 74.5+44=118.5