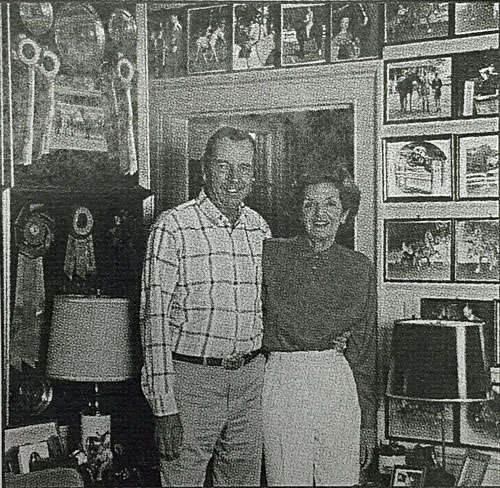 The Washington International Horse Show is proud to honor Kenneth and Sallie Wheeler as the 2000 WIHS Hall of Fame Inductees. For the greater part of their lives, the Wheelers have graced the national equestrian scene with their sportsmanship, style and generosity, training and riding top hunters and Saddle horses.
Sallie Busch Wheeler was an outstanding rider at an early age. Mrs. Wheeler rode hunters and exhibited Saddlebreds and Hackneys, garnering a long list of world championships. She has been inducted into the Hall of Fame of the St. Louis National Charity Horse Show, Virginia Horse Shows Association, and Kentucky State Fair's World Champions Horse Show and named the AHSA and VHSA Horsewoman of the Year. A past director of the WIHS, Mrs. Wheeler has played an integral part in the many years of success of the Washington International Horse Show. She graciously donated several of her famous driving ponies to auction with the proceeds going to WIHS. Mrs. Wheeler now serves as a member of the Board of Directors of the National Horse Show.
Kenneth Wheeler is known by his peers and co-workers for his dedication to his horses. A master at showing, training and managing horses, Mr. Wheeler was named AHSA Horseman of the Year in 1976 and the VHSA Horseman of the Year in 1987. His record number of Horse of the Year awards both statewide and nationally is unparalleled. Mr. Wheeler has trained in excess of 115 national champions and 250 state champions. Respected as one of the top hunter judges in America, he has officiated at many top shows including Devon Horse Show and the National Horse Show, Mr. Wheeler has trained and been associated with a number of great horses, several of which include Showdown, Celebrity, Admiration, and Reward. Mr. and Mrs. Wheeler captured the coveted honor World Grand Champion Fine Harness Horse with Champion A Sweet Treat and Radiant Success for an unprecedented three consecutive years.
In 1999, the Wheelers were presented with the Lifetime Achievement Award by the AHSA. Kenneth and Sallie Wheeler make their home at Cismont Manor Farm in Keswick, Virginia.
The Washington International Horse Show is honored to include Kenneth and Sallie Wheeler in the WIHS Hall of Fame.