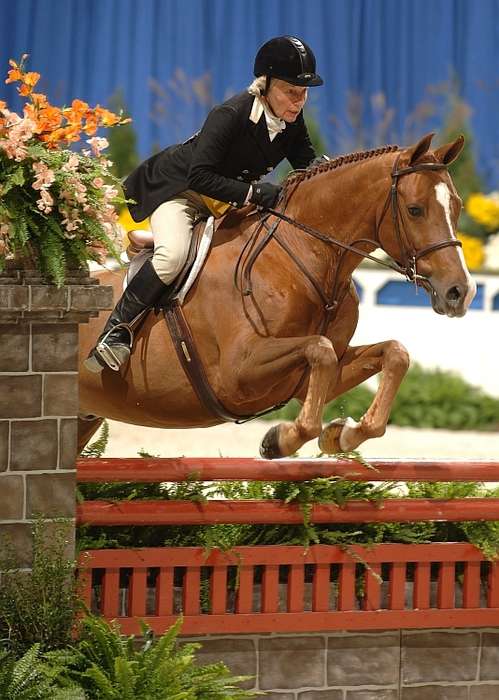 Few people can boast having competed or been in attendance at every Washington International Horse Show.  Betty Reynolds Oare is among those elite few.  Best of all Oare's claim to WIHS fame is that not only did she show at the very first WIHS in 1958 at the DC National Guard Armory, but that same year won the Virginia Horse Show Association Equitation Medal on a mare appropriately named "Can Do," which was judged by the well-known US Equestrian Team coach, Bertalan deNemethy.  That success garnered a full page of recognition on Sports Illustrated's back page called "Pat on the Back."
Betty Oare has taken the journey with Washington from the DC Armory to the Capital Centre/USAir Arena in 1975 and later to Verizon Center in 2000.
Betty grew up on the family farm in Tryon, NC and was taught to ride by her horseman father, J. Arthur Reynolds.  Betty Reynolds became Betty Oare in 1964 when she married Ernest M. Oare and started EMO Stables in Warrenton, VA, which continues even today.
Betty's riding career has spanned many years.  She rode successfully as a junior in the equitation and hunter divisions at shows throughout Virginia.  In her last year as a junior (1959), she rode Colonymas to the WIHS Junior Hunter Championship.  After graduating from the junior ranks she turned professional and rode a horse name Forty Winks to the WIHS Green Working Hunter Championship in 1965 and had many wins in the regular working hunters on Navy Commander.  In 1979 she won the WIHS Green Conformation Hunter Championship on Gabriel.
In 1981, she declared her amateur status and in 1983 and 1984 won the WIHS Amateur-Owner Hunter Championship on Spirit of Song.
In 2006 she rode the amazing Estrella, a 13-year-old Warmblood mare who is now one of her all-time favorites.  In 2002, they won the WIHS Amateur-Owner 36 & Over Championship (she won that same championship in 2003 on Fiddler's Bridge, who that same year was the USEF Grand Amateur-Owner Champion).  Also in 2002 Estrella claimed the United States Equestrian Federation (USEF) Horse of the Year National Championship in the Amateur-Owner 36 and Over Hunter division.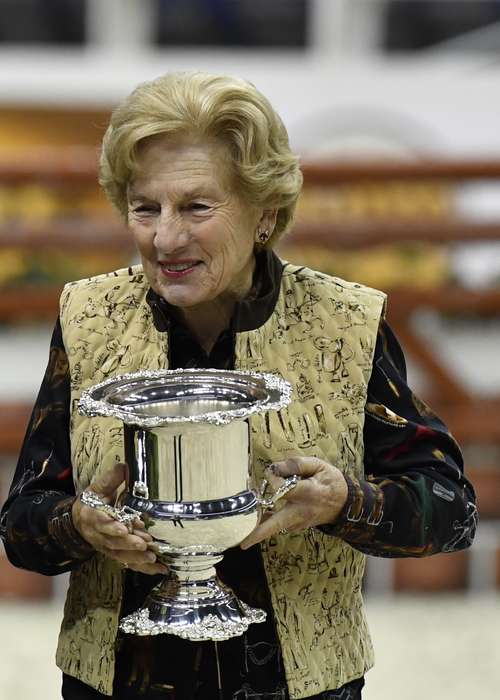 In addition to her riding accolades Betty has often been recognized for her many achievements.  In 1999 the American Hunter-Jumper Foundation presented Oare with its Sportsmanship Award and in 2003 with its Old Springhouse Lifetime Achievement Award.  Other honors include being presented with the Owner Recognition Trophy by the National Hunter Jumper Association in January of 2009 for the 2008 season and twice honored with the Virginia Horse Shows Association Horse Person of the Year award (1978 & 2005).   In 2008, Oare was inducted into the National Show Hunter Hall of Fame, an event which takes place during the Devon Horse Show.
Oare serves on the Virginia Horse Shows Association Board as well as the Warrenton and Upperville Horse Show Boards.  She was chair of the USEF Hunter Breeding Committee for many years which was instrumental in creating the Sallie B. Wheeler National Hunter Breeding Championship.  She presently serves on several USHJA and USEF committees.
This past August Betty and her husband Ernie received the Sallie B. Wheeler Sportsmanship Award at the Blowing Rock, North Carolina Horse Show.  "It was a great honor since this is an award for all around participation in the horse world," she commented.
In addition to being a decorated competitor, Oare is a USEF "R" rated judge, a position she first held at the 1977 WIHS and twice more in the 1990s.
As the years pass and Betty looks back at decades of competing at the Washington International Horse Show, the memories are boundless.  "When I step into the judge's box, I have a sense of responsibility knowing that each competitor has spent a lot of time, money and effort to get there," she said. "For riding, it's different.   When you enter through the ingate, see the crowd and set off on your course, it's truly exhilarating."
With appreciation and thanks, the WIHS welcomes Betty Oare to the "Hall of Fame!"